Cappellino Cadillac - Auto Repair Shop, New & Used Cars for Sale

Cappellino Cadillac Inventory
Important Information
1. Must be a current lessee of a 2018 model year or newer GM vehicle through GM Financial or Cadillac Financial or a current lessee of a 2018 model year or newer non-GM vehicle for at least 30 days prior to the new vehicle sale. Payments are for a 2023 CT5 Luxury with an MSRP of $39,590. 39 monthly payments total $19,071. Closed-end lease. Option to purchase at lease end for an amount to be determined at lease signing. Cadillac Financial/GM Financial Financial must approve lease. Take new retail delivery by 7/5/23. Mileage charge of $.25/mile over 32,500 miles. Late payment and early termination fees apply.  Lessee is responsible for insuring the lease vehicle. Lessee pays for maintenance, repair, excess wear and disposition fee of $595 or less at end of lease. Not available with some other offers.     © 2023 General Motors. Cadillac Financial and the Cadillac logo are trademarks and/or service marks of General Motors LLC, used with permission. Cadillac Financial is a division of GM Financial.  All Rights Reserved. Cadillac® CT5®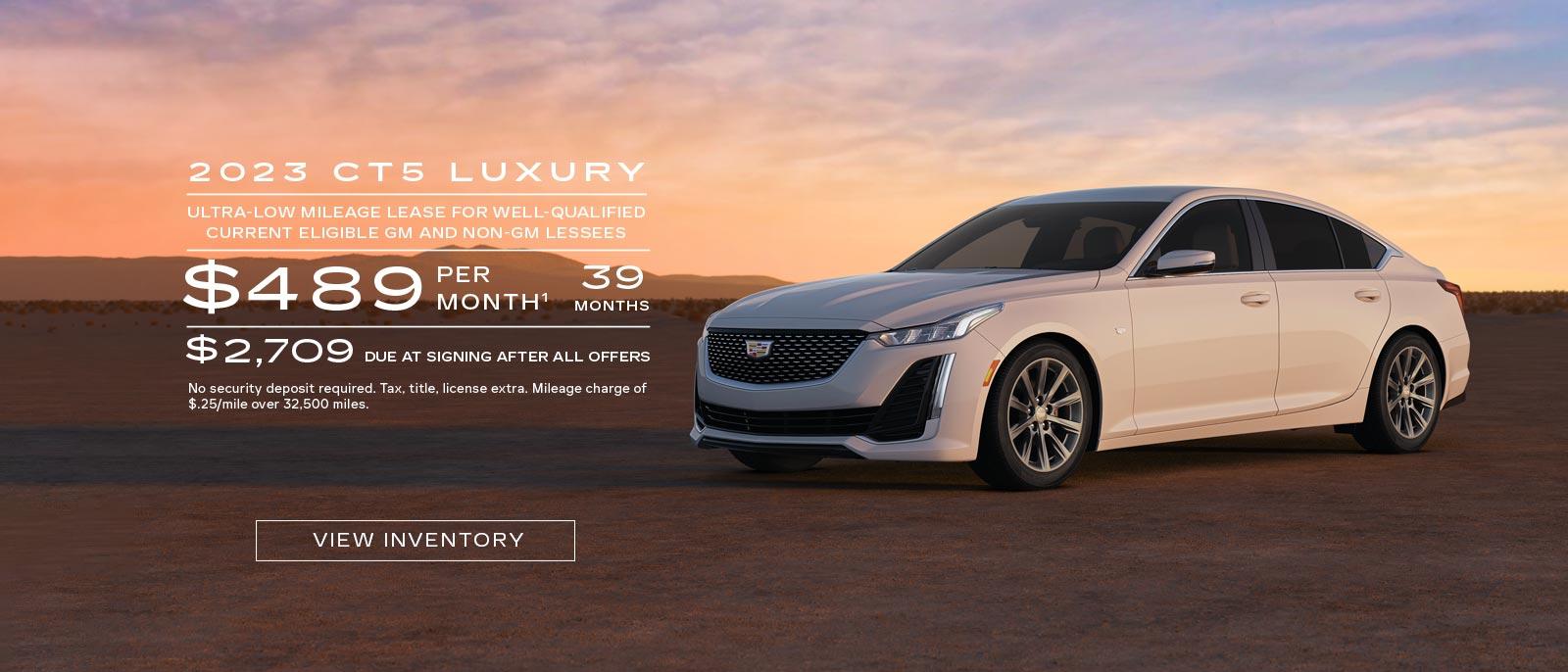 Important Information
1. Must be a current lessee of a 2018 model year or newer Cadillac vehicle through GM Financial or Cadillac Financial for at least 30 days prior to the new vehicle sale. Payments are for a 2023 XT4 Luxury with an MSRP of $37,490. 36 monthly payments total $13,644. Closed-end lease. Option to purchase at lease end for an amount to be determined at lease signing. Cadillac Financial/GM Financial Financial must approve lease. Take new retail delivery by 7/5/23. Mileage charge of $.25/mile over 30,000 miles. Late payment and early termination fees apply.  Lessee is responsible for insuring the lease vehicle. Lessee pays for maintenance, repair, excess wear and disposition fee of $595 or less at end of lease. Not available with some other offers.     © 2023 General Motors. Cadillac Financial and the Cadillac logo are trademarks and/or service marks of General Motors LLC, used with permission. Cadillac Financial is a division of GM Financial.  All Rights Reserved. Cadillac® XT4®
Important Information
1. Must be a current lessee of a 2018 model year or newer Cadillac vehicle through GM Financial or Cadillac Financial for at least 30 days prior to the new vehicle sale. Payments are for a 2023 XT5 Luxury with an MSRP of $45,590. 39 monthly payments total $17,901. Closed-end lease. Option to purchase at lease end for an amount to be determined at lease signing. Cadillac Financial/GM Financial must approve lease. Take new retail delivery by 7/05/23. Mileage charge of $.25/mile over 32,500 miles. Late payment and early termination fees apply.  Lessee is responsible for insuring the lease vehicle. Lessee pays for maintenance, repair, excess wear and disposition fee of $595 or less at end of lease. Not available with some other offers.      © 2023 General Motors. Cadillac Financial and the Cadillac logo are trademarks and/or service marks of General Motors LLC, used with permission. Cadillac Financial is a division of GM Financial.  All Rights Reserved. Cadillac® XT5®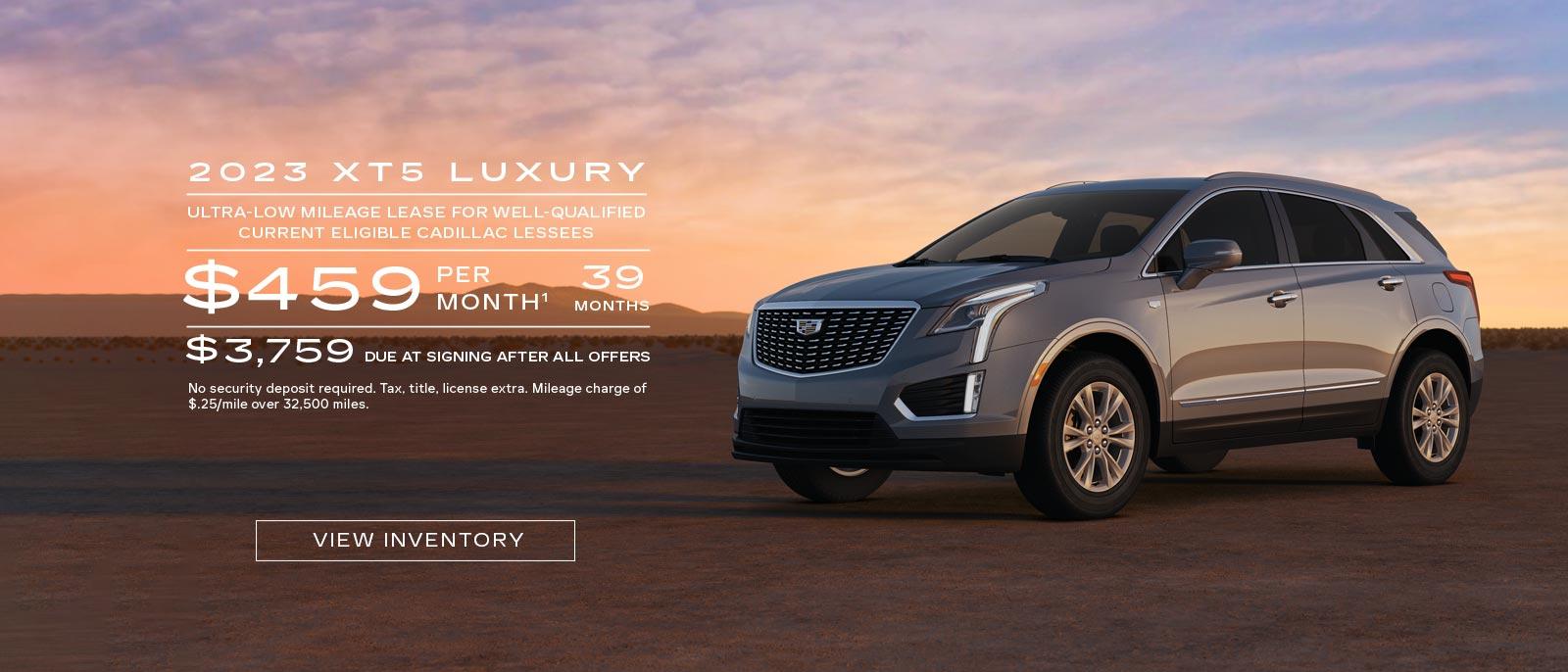 Important Information
1. Must be a current lessee of a 2018 model year or newer Cadillac vehicle through GM Financial or Cadillac Financial for at least 30 days prior to the new vehicle sale. Payments are for a 2023 XT6 Luxury with an MSRP of $49,990. 24 monthly payments total $11,016. Closed-end lease. Option to purchase at lease end for an amount to be determined at lease signing. Cadillac Financial/GM Financial must approve lease. Take new retail delivery by 7/05/23. Mileage charge of $.25/mile over 20,000 miles. Late payment and early termination fees apply. Lessee is responsible for insuring the lease vehicle. Lessee pays for maintenance, repair, excess wear and disposition fee of $595 or less at end of lease. Not available with some other offers. © 2023 General Motors. Cadillac Financial and the Cadillac logo are trademarks and/or service marks of General Motors LLC, used with permission. Cadillac Financial is a division of GM Financial. All Rights Reserved. Cadillac® XT6®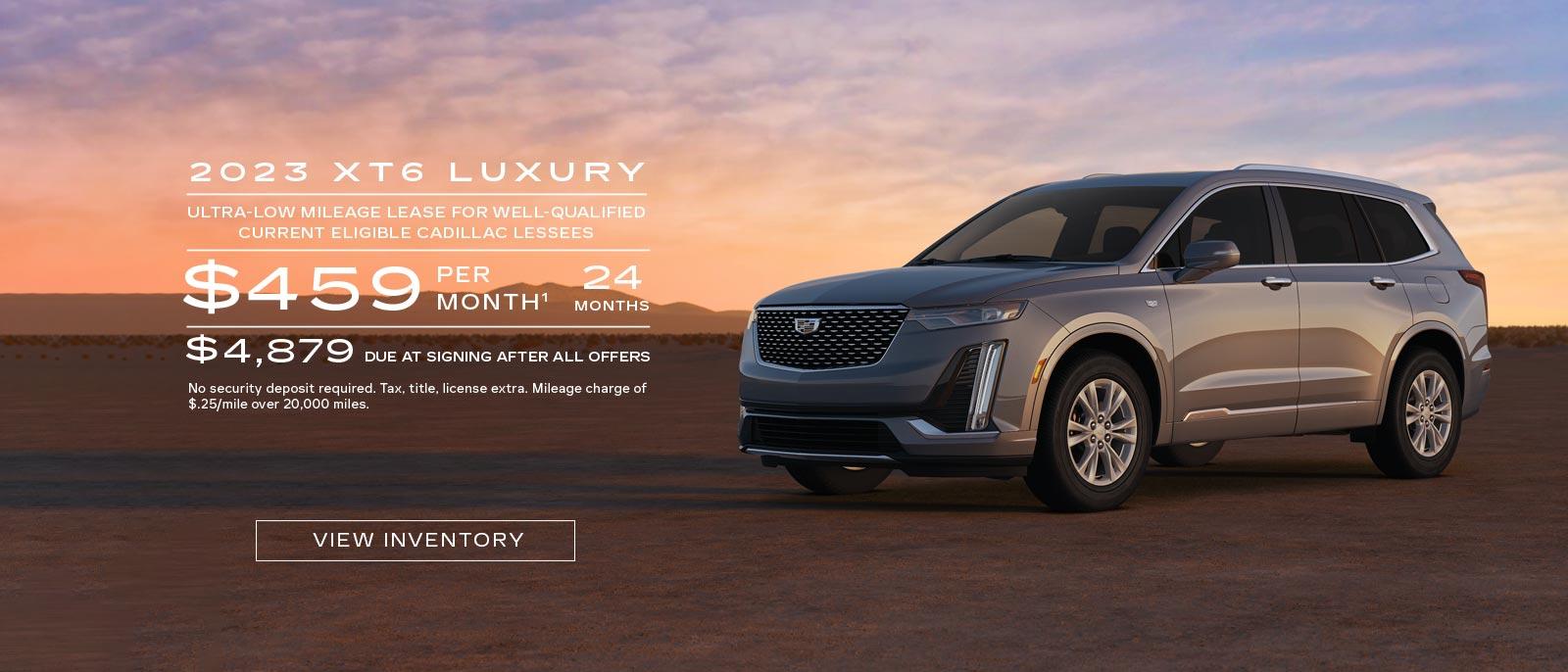 Important Information
1. Must be a current lessee of a 2018 model year or newer GM vehicle through GM Financial or Cadillac Financial or a current lessee of a 2018 model year or newer non-GM vehicle for at least 30 days prior to the new vehicle sale. Payments are for a 2023 CT4 Premium Luxury with an MSRP of $40,690. 36 monthly payments total $14,004. Closed-end lease. Option to purchase at lease end for an amount to be determined at lease signing. Cadillac Financial/GM Financial must approve lease. Take new retail delivery by 7/05/23. Mileage charge of $.25/mile over 30,000 miles. Late payment and early termination fees apply. Lessee is responsible for insuring the lease vehicle. Lessee pays for maintenance, repair, excess wear and disposition fee of $595 or less at end of lease. Not available with some other offers. © 2023 General Motors. Cadillac Financial and the Cadillac logo are trademarks and/or service marks of General Motors LLC, used with permission. Cadillac Financial is a division of GM Financial. All Rights Reserved. Cadillac® CT4®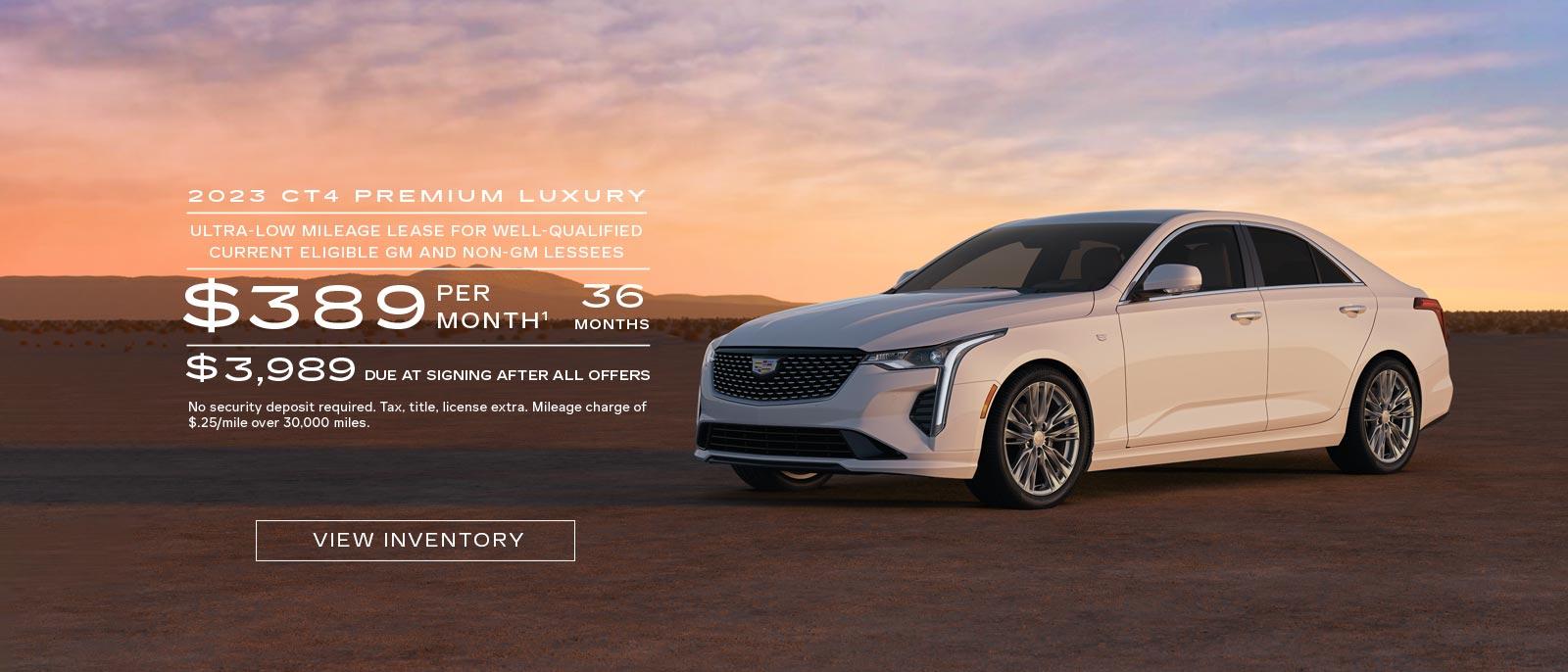 Important Information
Simulated model shown. Actual production model will vary. See dealer for 2024 LYRIQ availability details.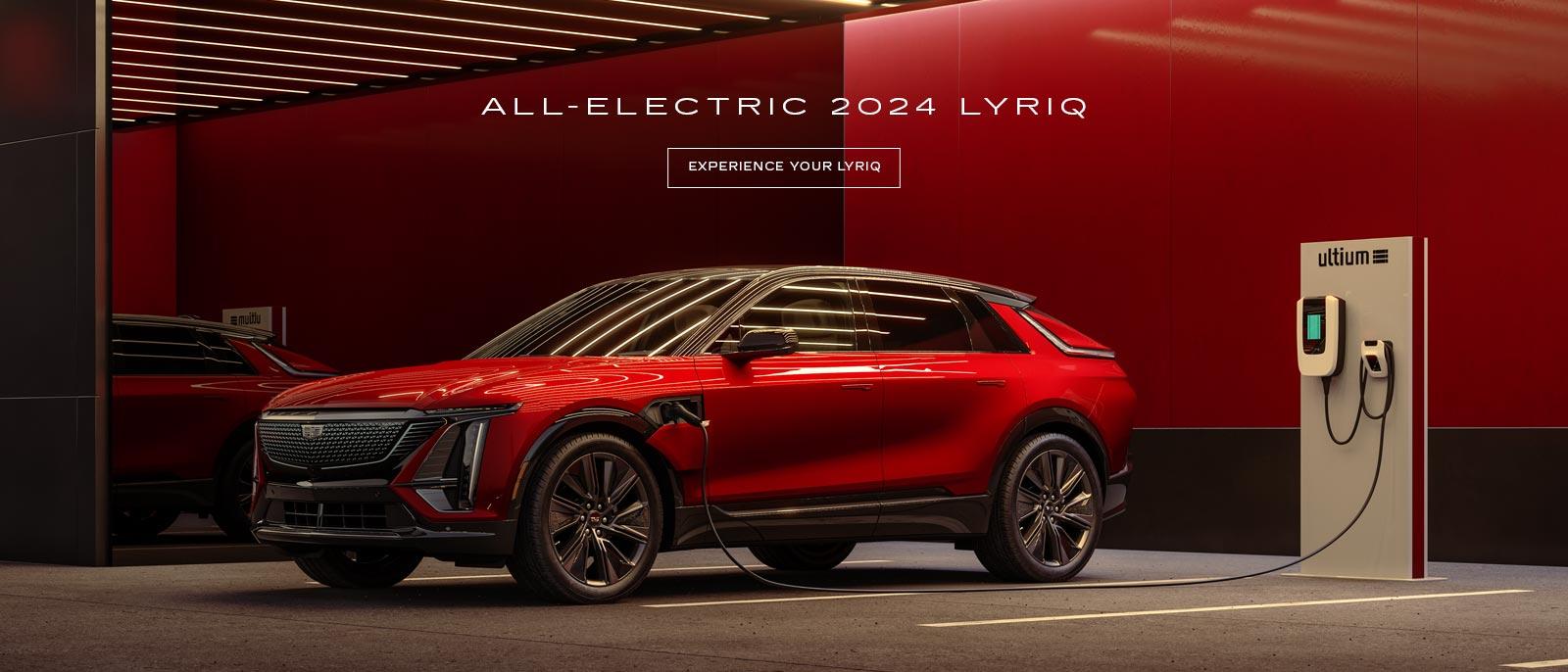 Important Information
*Where allowed under state law.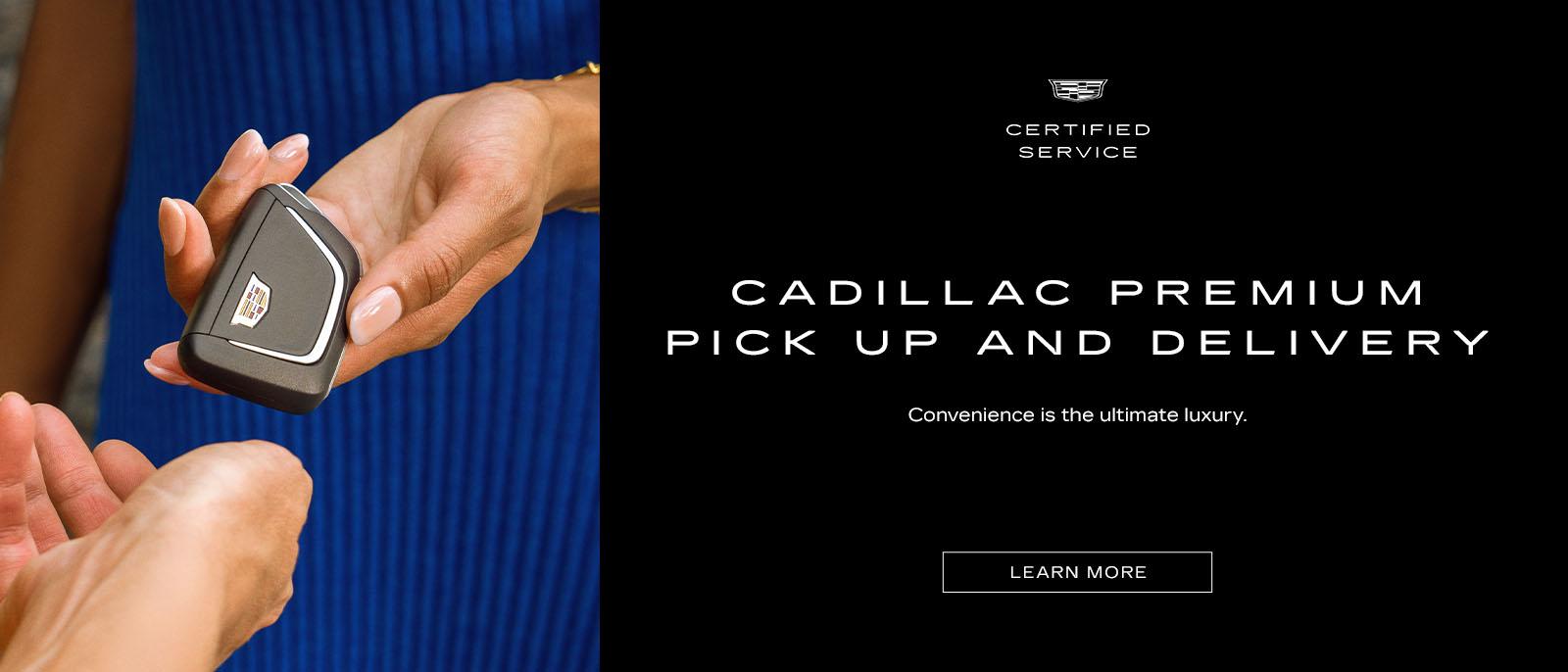 Important Information
New owners and lessees for model year vehicles from 2020-2022. Maintenance visit must occur at a participating Cadillac dealership within the first year of vehicle delivery. Does not include air filters. See dealer for other restrictions and complete details.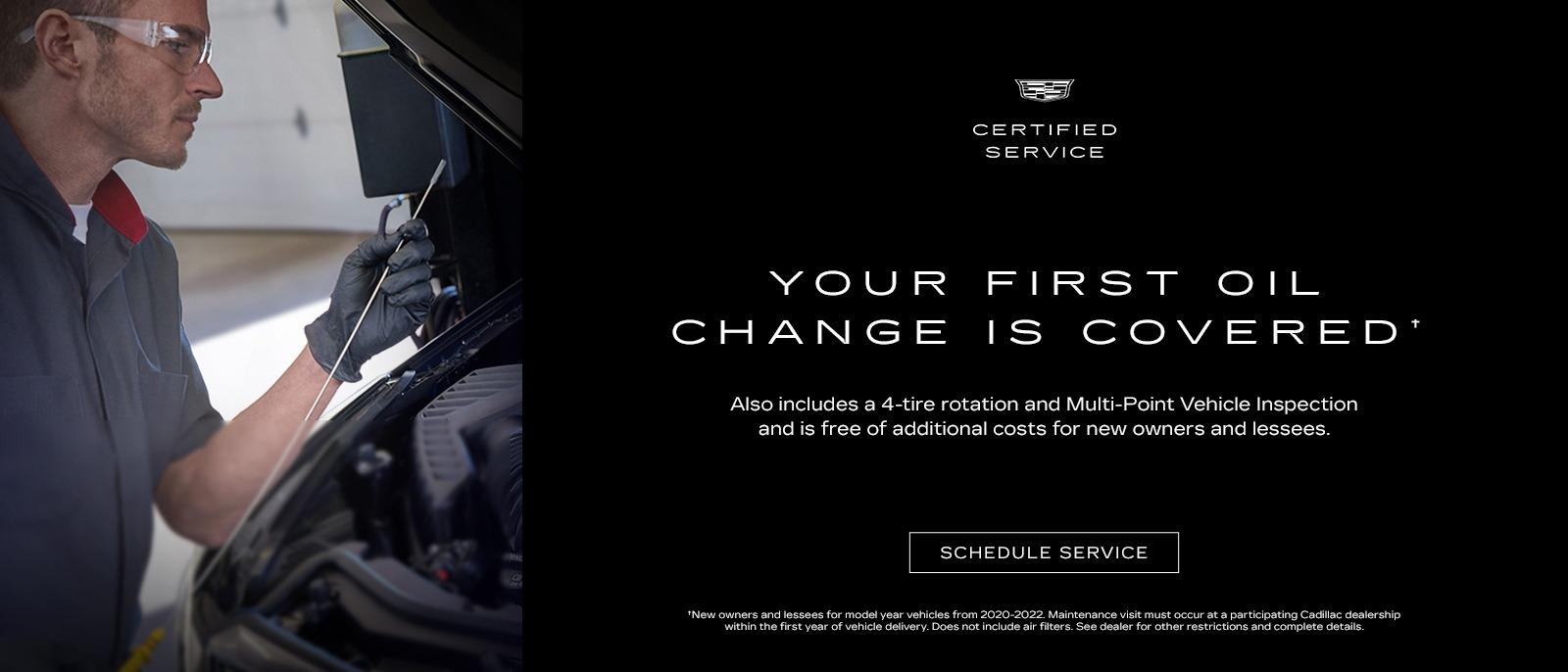 Important Information
*Eligible tire brands: BFGoodrich, Bridgestone, Continental, Dunlop, Firestone, General, Goodyear, Hankook, Kelly, Michelin, Pirelli, and Uniroyal. Ad, written estimate, or internet quote for identical tire(s) from a competing tire retailer/installer located within 100 miles of the dealer required during guarantee period for price match. At participating dealers only. Offer ends 12/31/2023.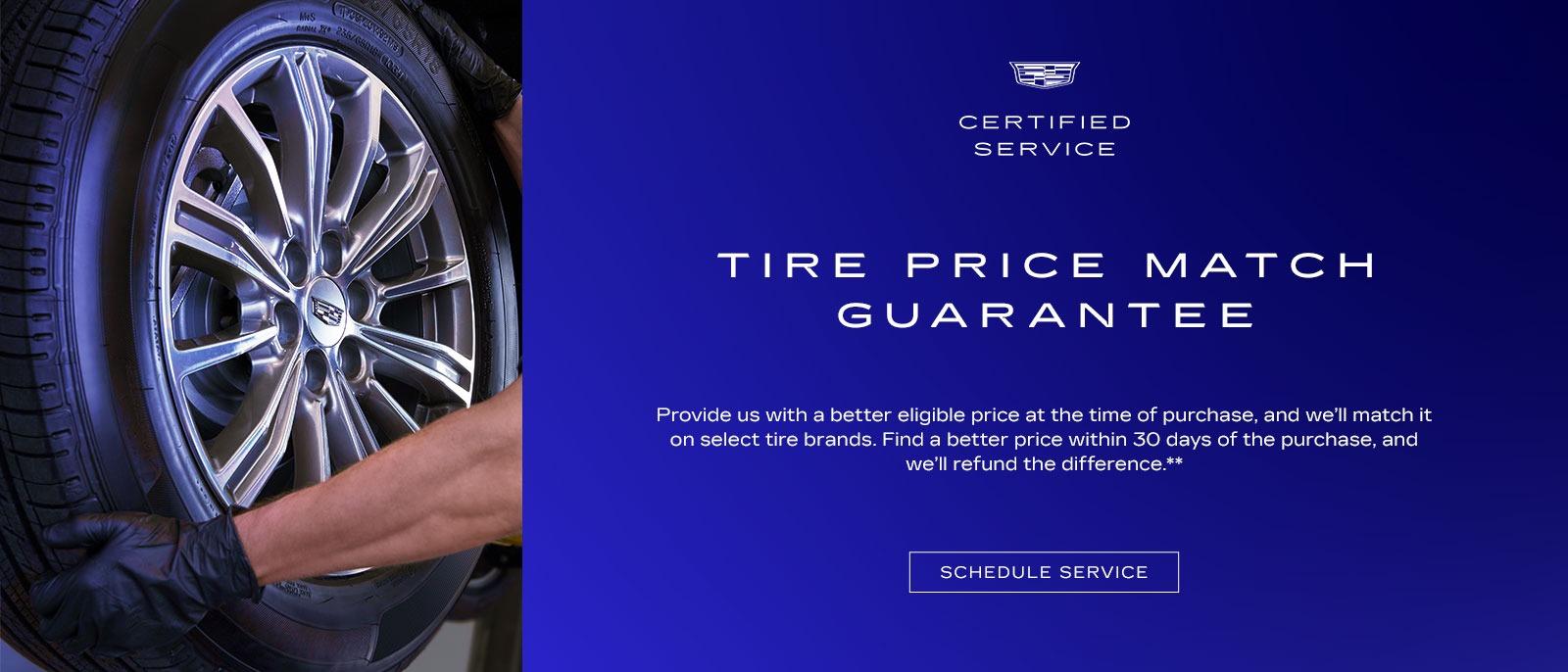 WILLIAMSVILLE Service, Part, and Auto Repair shop at Cappellino Cadillac - Serving Rochester and East Aurora Vehicle Customers

Are you located near East Aurora and looking for Cadillac auto
parts
or
repair
for your vehicle? Our dealership's certified department is open Monday-Saturday and ready to help you with all your car maintenance needs. East Aurora and Rochester, NY Cadillac drivers can order components online at their convenience. They can also schedule an appointment online. Whether you need routine maintenance like an oil change or you need a more serious auto repair, Cappellino Cadillac's repair department in WILLIAMSVILLE can help you get back on the road quickly and safely. We are well-known for our friendly and experienced staff. East Aurora and Rochester, NY Cadillac enthusiasts can come by our dealership today. Our service bays are open. Visit us today to experience the best auto
repair
facility in WILLIAMSVILLE, NY.
WHAT PEOPLE ARE SAYING ABOUT US
Very friendly staff that genuinely seems interested in you, your car, and making sure it is running well or serviced well.
Very professional and helpful with my father's purchase. We will definitely do business with your company in the future.
Service appt for an oil change was prompt. Since my vehicle was still under warranty they also rotated the tires, checked fluid levels and ran it through the car wash, all free. The waiting room is comfortable and offers free drinks and snacks while you wait.
THE BEST AND QUICKEST car buying experience of my life. They were prepared like no other dealership. My first Caddy and it won't be my last because of Cappellino.
Fantastic service I would recommend this place to everyone who likes to take care of a really great car thank you for all of you who work at cappellino Cadillac a very satisfied customer
My experience was beyond phenomenal. The service department is awesome.